VIOLIN COMBO PACK: Romanian Violin Custom Outfit 2 - By August F. Kohr (Item #KR20-CO)
The Romanian series offers well-made European instruments at an affordable price. A great alternative to the more expensive German and French makers.
This August F. Kohr model is a better quality violin that has a slightly flamed maple back & fine spruce top. Medium satin, orange-golden finish. Even tone throughout. Clean & powerful in the lower registers, brilliant but smooth in upper registers. Ebony Parisian eye pegs & endbutton, Despiau "C" level bridge, ebony tailpiece, ebony Guarneri model chinrest. Thomastik Dominant A, D, G strings with Pirastro Gold Label E (loop end E).
Includes Core CC399 Shaped Case with backpack straps & 1090VN Pernambuco bow.

---

The Howard Core Quality Assurance Department is the final stage before shipping. This is where their finished products are scrutinized down to the last detail. Each instrument is run through a 30-point inspection process and then play-tested to ensure the company produces nothing short of a fine musical instrument, designed to last for many years.
---
This Instrument is Available in Multiple Sizes.
Please consult with your instructor to confirm the best size before making your purchase.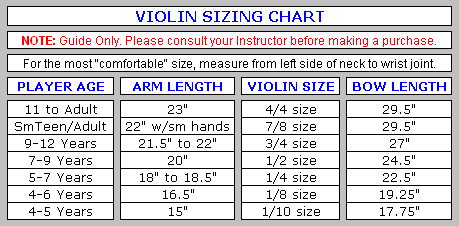 ---
NEED VIOLIN ACCESSORIES?
Contact us
with ANY special requests!
---
> We post our most popular proven products on our website to help remove the guesswork for you.
> We also have access to 300,000+ more items that we can special order for you via our suppliers.
> See the possibilities via our Brand & Category Sampling page (in the footer of this website).

> Then, Contact Us with any requests & we'll guide you to the BEST products for your need & budget.
THANK YOU FOR CHOOSING MUSIC INFUSION!
"A Place of Honesty, Integrity, and Kindness."