BRASS & WOODWIND A-12: John Packer JP321 Clarinet Step-Up Model Combo Pack (Item #102404)

MUSIC INFUSION chose JOHN PACKER (JP Musical Instruments) over ALL other Brass and Woodwind Instruments – & HERE'S WHY: 
We are extremely satisfied with the company's professionalism, integrity, and over 40 years of musical expertise.
Their quality and value are evident, as each model has been carefully developed by John Packer himself, ensuring only the BEST instruments bear his name.
They offer a WIDE range of instruments for personal, group, and marching band performance.
Popular with professional and amateur musicians alike, JOHN PACKER (JP Musical Instruments) has become a global brand - recognized in 45 countries.
---
The John Packer JP321 Bb Clarinet is an affordable ideal instrument for a student to upgrade from a beginners clarinet. This clarinet is capable of taking the player up through the higher grades and offer a high level of performance.

UNIQUE BENEFITS:
Sleek and stylish designed body, crafted from Grenadilla wood. Fitted with sliver plated keywork. Widened silver tenon rings. Modern ringless bell. Unique to the JP321 is the use of new cupped pad technology which creates an improved seal, this enables free-blowing and a pure sound, especially around the troublesome throat notes. To help with comfort while playing the clarinet, it features and adjustable thumb rest and a strap hook attachment.
---
INCLUDED:

The JP221 is supplied with a JP6121 student mouthpiece, lightweight case, pull-through, ligature & cap set, cork grease and reed. The fabric case features an external pocket for small accessories as well as shoulder and backpack strap fittings. Two straps are supplied with the case giving players choice between backpack and shoulder options.
MUSIC INFUSION also offers FREE SHIPPING on ALL John Packer Musical Instruments!
---
SPECIFICATIONS:

> Material: Grenadilla
> Keywork: Silver Plated
> Mechanism: Full Keywork
> Finish: Black
> Mouthpiece: JP Student Mouthpiece
> Lyre Box: No
> Instrument Weight: 1 lb 9 oz
> Weight with Case: 3 lb 7 oz
---
REVIEW:
"This new clarinet from JP Musical Instruments has impressed me with its combination of sophisticated keywork and overall evenness of sound projection. The precision keywork will enable fluency and agility in virtuosic playing and will enhance and make easier general technique. This clarinet produces a warm, slightly dark sound and produces a variety of colours throughout all the registers. It also has good clarity, especially around the throat notes. I thoroughly enjoyed playing this clarinet and I recommend it highly." (Fiona Cross, Trinity College of London.)
---
WARRANTY
All JP Instruments are covered by a comprehensive 2 year warranty against manufacturing defects. Please note this does not cover aesthetic or finish faults. For full terms & conditions visit the JP Musical Instruments website at www.jpmusicalinstruments.com/warranty
---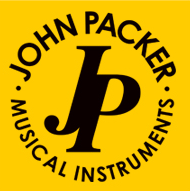 Contact MUSIC INFUSION for ANY John Packer product! JPMusicalInstruments.com

---
PLEASE NOTE: If you have a musical instrument instructor, please check with them on their personal recommendations for any needed Accessories & Instructional Materials. Then, Contact Us HERE so we can put together a quote on any requested item.
---
> We post our most popular proven products on our website to help remove the guesswork for you.
> We also have access to 300,000+ more items that we can special order for you via our suppliers.
> See the possibilities via our Brand & Category Sampling page (in the footer of this website).

> Then, Contact Us with any requests & we'll guide you to the BEST products for your need & budget.
THANK YOU FOR CHOOSING MUSIC INFUSION!
"A Place of Honesty, Integrity, and Kindness."