BRASS & WOODWIND A-15: John Packer JP042BS Tenor Sax - Black & Silver Combo Pack (Item #102009)

MUSIC INFUSION chose JOHN PACKER (JP Musical Instruments) over ALL other Brass and Woodwind Instruments – & HERE'S WHY: 
We are extremely satisfied with the company's professionalism, integrity, and over 40 years of musical expertise.
Their quality and value are evident, as each model has been carefully developed by John Packer himself, ensuring only the BEST instruments bear his name.
They offer a WIDE range of instruments for personal, group, and marching band performance.
Popular with professional and amateur musicians alike, JOHN PACKER (JP Musical Instruments) has become a global brand - recognized in 45 countries.
---
The John Packer JP042 Bb Tenor Saxophone is ideal for beginners or for those wanting to source their own instrument at an affordable price, as well as have many features that are present on more professional models.
UNIQUE BENEFITS:
There are many features on the JP042 that are present on more professional models, a fully ribbed construction and double spine on B & C keys provides additional strength.

An underslung octave mechanism also improves instrument reliability whilst blue steel springs are rust resistant with better tension memory.
Italian leather pads create a great seal that translates into a fuller sound that is more responsive which lasts longer than conventional pads.
Resonator pads also improves projection and gives the tone more depth. The instrument also features High F# and Front F keys and a floating plate design for the little finger (left hand) cluster, this aids faster movement once players have become more proficient.
An adjustable thumb rest allows a more natural and comfortable hand position to be achieved. A strap ring also provides the opportunity to make the instrument even lighter with the use of the provided strap.  
The appearance of the JP042 has been enhanced with engraving abalone pearls on the keys.
---
DEMO VIDEO:
---
INCLUDED:
The JP042 is supplied in a fabric case with backpack and shoulder straps and is pocketed in order to store small accessories. Also included is a JP mouthpiece, cap, ligature, instrument strap, and reed. 
MUSIC INFUSION also offers FREE SHIPPING on ALL John Packer Musical Instruments!
---
SPECIFICATIONS:
> Material: Brass
> Keywork: Abalone Pearl
> Mechanism: Full Keywork
> Finish: Black with Silver Keywork
> Mouthpiece: JP
> Lyre Box: Yes
> Instrument Weight:8 lb 4 oz
> Weight with Case: 18 lb 9oz
---
REVIEW:
"Quite frankly, the John Packer JP042 blows all the other intermediate instruments clean out of the water. There is now no point buying anything else until you feel you are ready for your first professional standard model. No point! Even then, it will make a very useful spare! This tenor has a distinctive and very bright sound, ideal for cutting through in this context. Also, I felt that I had unrivaled access into the altissimo register, and was able to play cleanly up to the F# above top F#. The lower harmonics especially felt very easy, and the top G# available here was the best I have ever had. On the quiet numbers, it was very easy to produce a bluesy sub-tone. The feel of the keywork was very positive, especially the low Eb/C and the left hand little finger stack, and the instrument felt proper." (Pete Long)
---
WARRANTY
All JP Instruments are covered by a comprehensive 2 year warranty against manufacturing defects. Please note this does not cover aesthetic or finish faults. For full terms & conditions visit the JP Musical Instruments website at www.jpmusicalinstruments.com/warranty
---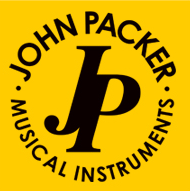 Contact MUSIC INFUSION for ANY John Packer product! JPMusicalInstruments.com

---
PLEASE NOTE: If you have a musical instrument instructor, please check with them on their personal recommendations for any needed Accessories & Instructional Materials. Then, Contact Us HERE so we can put together a quote on any requested items.
---
> We post our most popular proven products on our website to help remove the guesswork for you.
> We also have access to 300,000+ more items that we can special order for you via our suppliers.
> See the possibilities via our Brand & Category Sampling page (in the footer of this website).

> Then, Contact Us with any requests & we'll guide you to the BEST products for your need & budget.
THANK YOU FOR CHOOSING MUSIC INFUSION!
"A Place of Honesty, Integrity, and Kindness."