BRASS & WOODWIND A-19: John Packer JP132R Large Bore Tenor Trombone with Rose Brass Bell Combo Pack (Item #102032)

MUSIC INFUSION chose JOHN PACKER (JP Musical Instruments) over ALL other Brass and Woodwind Instruments – & HERE'S WHY: 
We are extremely satisfied with the company's professionalism, integrity, and over 40 years of musical expertise.
Their quality and value are evident, as each model has been carefully developed by John Packer himself, ensuring only the BEST instruments bear his name.
They offer a WIDE range of instruments for personal, group, and marching band performance.
Popular with professional and amateur musicians alike, JOHN PACKER (JP Musical Instruments) has become a global brand - recognized in 45 countries.
---
The John Packer JP132R Large Bore Bb Trombone is ideal for new starters who prefer a larger bore trombone. Well engineered and with just the right 'resistance' for an inexperienced player, this instrument featurea an 8 1/2" bell for great sound projection. It also features a rose brass bell as standard, ensuring the player stands out from the crowd - as well as providing a rich and warm tone.
UNIQUE BENEFITS:
The JP132 Bb Trombone is unique in offering students an affordable beginner level large bore trombone, giving them the opportunity to start on the instrument that suits their playing needs best. The instrument has gone though rigorous research and development to achieve the perfect balance between quality of sound and robust construction. Despite being a student level range, the JP132 features a bell ring for strength, improved resonance, and is constructed from yellow brass with a beautiful rose brass bell creating greater resonance.
---
INCLUDED:
The JP132 comes supplied with a JP Mouthpiece and a high quality, lightweight case. Constructed with the musician in mind, the case features both backpack straps as well as a comfortable shoulder strap. It also includes a small side pocket for accessories. Protecting your instrument from the elements the case is of a robust ridged construction and features reliable YKK zips.

MUSIC INFUSION also offers FREE SHIPPING on ALL John Packer Musical Instruments!
---
SPECIFICATIONS:
> Material/Finish: Yellow Brass/Lacquer
> Bell Size: Rose Brass 8.5"
> Bore: Large .547"
> Water Key: 1
> Mouthpiece: JP601
> Lyre Box: No
> Instrument Weight: 3 lb 8 oz
> Weight with Case: 13 lb 1 oz

---
REVIEW:
(See "Unique Benefits" above.)
---
WARRANTY
All JP Instruments are covered by a comprehensive 2 year warranty against manufacturing defects. Please note this does not cover aesthetic or finish faults. For full terms & conditions visit the JP Musical Instruments website at www.jpmusicalinstruments.com/warranty
---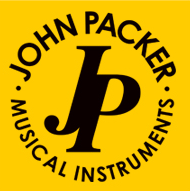 Contact MUSIC INFUSION for ANY John Packer product! JPMusicalInstruments.com

---
PLEASE NOTE: If you have a musical instrument instructor, please check with them on their personal recommendations for any needed Accessories & Instructional Materials. Then, Contact Us HERE so we can put together a quote on any requested.

---
> We post our most popular proven products on our website to help remove the guesswork for you.
> We also have access to 300,000+ more items that we can special order for you via our suppliers.
> See the possibilities via our Brand & Category Sampling page (in the footer of this website).

> Then, Contact Us with any requests & we'll guide you to the BEST products for your need & budget.
THANK YOU FOR CHOOSING MUSIC INFUSION!
"A Place of Honesty, Integrity, and Kindness."