BRASS & WOODWIND A-20: John Packer JP333 Rath Double-Valve Bass Trombone - Advanced Model Combo Pack (Item #102721)

MUSIC INFUSION chose JOHN PACKER (JP Musical Instruments) over ALL other Brass and Woodwind Instruments – & HERE'S WHY: 
We are extremely satisfied with the company's professionalism, integrity, and over 40 years of musical expertise.
Their quality and value are evident, as each model has been carefully developed by John Packer himself, ensuring only the BEST instruments bear his name.
They offer a WIDE range of instruments for personal, group, and marching band performance.
Popular with professional and amateur musicians alike, JOHN PACKER (JP Musical Instruments) has become a global brand - recognized in 45 countries.
---
John Packer Musical Instruments are not just about "Student" models. We wanted you to see an example of one of their "Advanced" instruments, as well . . .
The John Packer JP333 Rath is John Packer's Double Valve Bass Trombone and is suitable for musicians who are looking for a mid range/pro level instrument perfectly suited to orchestral playing, in a brass band section and also in a trombone section in a big band.
UNIQUE BENEFITS:
The JP333 Bass Trombone has a broad and free sound, developed in collaboration with UK trombone guru Michael Rath. This JP Rath design combines a double in-line rotary valve with a modern open wrap style.
The development of the JP333 Rath saw the instrument finely balanced, with the help of the counterweight, to ensure an excellent playing experience for musicians of all levels
The JP333 Rath features a large  14.27mm (.562") bore and a 241mm (9.5") bell and is constructed from high grade brass throughout.
The instrument also features an exclusive Michael Rath design leadpipe which supports flexibility throughout the whole register. An extremely high level of craftsmanship is apparent throughout, as is to be expected with instruments that bare the Rath seal of approval.
---
DEMO VIDEO
---
INCLUDED:
The JP333 Rath Trombone is supplied with a JP mouthpiece, JP pro lightweight case and an Ultra-pure Maintenance Pack.
The case is well designed to be robust yet lightweight and to provide as much protection to your instrument as possible. It is equipped with backpack straps and a comfortable should strap as standard and also includes a small storage pocket accessible from the outside suitable for storing small accessories and sheet music.
MUSIC INFUSION also offers FREE SHIPPING on ALL John Packer Musical Instruments!
---
SPECIFICATIONS:
> Key: Bb/F/Gb
> Bell Size: High Grade Brass 9.5"
> Valves: Rotary 2
> Bore: Large .562"
> Water Key: Lever 1
> Body: High Grade Brass
> Finish: Lacquer
> Lyre Box: No
> Mouthpiece: Yes
> Leadpipe: Michael Rath Leadpipe
> Instrument Weight: 5 lb 12 oz
> Weight with case: 16 lb 15 oz

---
REVIEW:
"The latest addition to the John Packer trombone family has, again, been designed with input from the British trombone guru, Michael Rath. This expertise has been invaluable in the long term success of the JP/RATH range of trombones – a very clear message: superb value instruments with high end quality. The JP333 maintains all the quality hallmarks I have come to expect from the John Packer range of brass instruments over the years – the attention to detail is evident from opening the Pro line JP case, a case with a neat and compact set up with space for all the trombonists gadgetry and extra interchangeable padding to ensure the instrument is protected without weighing a tonne. The case also comes with an excellent maintenance kit and (approx.) 2G size heavy weight mouthpiece. I am really very impressed with the build quality of the JP333. I was fortunate to spend some time testing the instrument against some other household names, and I was hugely impressed with the consistency the JP333 presented. The instrument feels very sturdy and is ergonomically sound with the introduction of a counterweight to add a much likeable balance in the instrument, the hand slide is well spaced and the overall feel when holding the instrument is very pleasing.The JP333 is an aesthetically pleasing instrument. The lacquer finish in the instrument is consistent all over the instrument – I checked the entire instrument from the box and can honestly say the finish of the instrument was flawless. The 9.5 inch gold brass bell offers a warm and focused sound and the consistency throughout the different registers is very pleasing. This flexibility the Michael Rath designed lead pipe offers is the key to this instruments success – the different harmonics feel effortless when playing exercises in flexibility (Remington / Van Dijk et al), and the shifts in the lower register works very well between open instrument and the often difficult lower valve combinations. The JP333 sounds GREAT! Each different register of the JP333 is focused and feels to slot exactly where it should do. The middle to high registers are easy to sing through and give the instrument a superb lyrical quality across the various harmonics. The standard rotary valves offered on the JP333 offer a compact and warm sound in the lower register that is able to project and dominate when required or alternatively blend and still be able to speak in softer dynamic playing. I really enjoyed playing orchestral excerpts on the JP333. The instrument performed very well when tested against three other different instruments, offering a good weight to the sound when required and also a little more subtlety when appropriate. I feel that the JP333 is an excellent addition to the bass trombone market offering exceptional value for money. This instrument would be at home playing in a solo / recital capacity and would also make an excellent contribution to section work in an orchestral setting, brass band, symphonic wind ensemble, brass chamber ensemble or more commercial / big band style work." (Garrath Beckwith, Head of Music / Saddleworth School)

---
WARRANTY
All JP Instruments are covered by a comprehensive 2 year warranty against manufacturing defects. Please note this does not cover aesthetic or finish faults. For full terms & conditions visit the JP Musical Instruments website at www.jpmusicalinstruments.com/warranty
---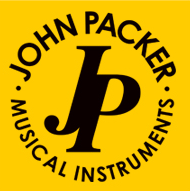 Contact MUSIC INFUSION for ANY John Packer product! JPMusicalInstruments.com

---
PLEASE NOTE: If you have a musical instrument instructor, please check with them on their personal recommendations for any needed Accessories & Instructional Materials. Then, Contact Us HERE so we can put together a quote on any requested items.

---
> We post our most popular proven products on our website to help remove the guesswork for you.
> We also have access to 300,000+ more items that we can special order for you via our suppliers.
> See the possibilities via our Brand & Category Sampling page (in the footer of this website).

> Then, Contact Us with any requests & we'll guide you to the BEST products for your need & budget.
THANK YOU FOR CHOOSING MUSIC INFUSION!
"A Place of Honesty, Integrity, and Kindness."