BRASS & WOODWIND A-24: John Packer JP by Taylor Trumpet Collaboration (Advanced Model) Satin Finish Combo Pack (Item #102715)

MUSIC INFUSION chose JOHN PACKER (JP Musical Instruments) over ALL other Brass and Woodwind Instruments – & HERE'S WHY: 
We are extremely satisfied with the company's professionalism, integrity, and over 40 years of musical expertise.
Their quality and value are evident, as each model has been carefully developed by John Packer himself, ensuring only the BEST instruments bear his name.
They offer a WIDE range of instruments for personal, group, and marching band performance.
Popular with professional and amateur musicians alike, JOHN PACKER (JP Musical Instruments) has become a global brand - recognized in 45 countries.
---
John Packer Musical Instruments are not just about "Student" models. We wanted you to see an example of one of their "Advanced" instruments, as well . . .

The JP by Taylor is a fresh collaboration with one of the most exciting international custom trumpet designers. It's an ideal instrument for players looking for a jazz trumpet with a big sound and the performance of professional models.
UNIQUE BENEFITS:
Designed in collaboration with Taylor Trumpets, the JP by Taylor is designed to offer players the look and feel of a Taylor trumpet that out-performs its price tag. Made of many of the professional components found on Taylor trumpets, the JP by Taylor features a leadpipe handmade by Andy Taylor and many heavyweight components including a heavy bell, heavyweight finger rings and top and bottom caps, and amado design water keys. Made from a high grade brass, the Taylor Trumpets provides players with a big, bright sound and is a more cost effective route into the Taylor family.
---
DEMO VIDEO
---
INCLUDED:

The JP by Taylor is supplied in a JP851 Pro Double Trumpet case, and comes with a JP 5C mouthpiece, a bottle of Ultra Pure valve oil and a maintenance guide to help you keep your instrument in top playing order.
MUSIC INFUSION also offers FREE SHIPPING on ALL John Packer Musical Instruments!
---
SPECIFICATIONS:

> Bell Size: High Grade Brass - 4.84", Heavyweight
> Valves: Piston 3
> Bore: Medium Large 0.460"
> Water Key: Armado 2
> Body: High Grade Brass
> Finish: Satin
> Lyre Box: No
> Mouthpiece: JP 5C
> Leadpipe: Andy Taylor Design
> Instrument Weight: 2 lb 15 oz
> Instrument Weight with Case: 10 lb 4 oz

---
REVIEW:
The John Packer company has collaborated over the past few years with a number of custom UK manufacturers (Rath, Sterling, Smith-Watkins among them). The latest among these collaborations is the John Packer 'JP by Taylor', designed in conjunction with Taylor Trumpets and featuring a handmade leadpipe by Andy Taylor. The brief in the design here was to create a jazz-inspired trumpet with a big sound, and importantly at a mid-range price. 
I was sent an instrument to test drive for a few days. Mine was in a clear lacquer finish, but it is also available in silver plate and satin lacquer (as pictured). First impression out of the box (a nice quality JP Pro Double case) is that this is a Taylor trumpet. Nice styling and accents, a thick-walled Taylor-designed leadpipe, heavy bell, heavy trim… It looks good! It has a .460″ medium large bore, single radius tuning slide, and a fairly tame bell flair, not too dissimilar to the standard model pro trumpets that we are most accustomed to.
Initially I found the blow nice and free, with some lovely dark tonal characteristics that you would expect from a heavier horn, particularly through the middle register and at softer dynamics. Once I got used to playing it for a few minutes, I realized that I could actually back off the air a lot more than I am used to, and as a result obtained a great brightness to the sound that really took me by surprise. The heavy Taylor leadpipe gives a real core and solidity to the sound, as does the heavy bell. The rounded, single-radius tuning slide however helps to balance this out by giving a freer response and a little more brightness that allows you to blend in a section.
Slotting and intonation across the range are good, and I have to say, it was a load of fun to play. Backing off the air, you can get a nice clear articulation with a blossoming bright sound, and some nice added zing up top for players that are 'that way' inclined! Pushing the air a little more in the middle register gives you a darker smoky sound that I have never found before in a horn anywhere near this price bracket. Close inspection of the mechanics of the valves and slides is the only way to tell that this is not a handmade custom horn at 3 times the price. But if you look after and maintain the valves well, there is no reason why this horn can't stay reliable and in great blowing shape for many, many years.
This is a lovely, smooth-blowing horn, built for a 'jazz' sound that also gives you the flexibility to play it in any number of settings. 
(John Hutchinson, The Mouthpiece Online)
---
WARRANTY
All JP Instruments are covered by a comprehensive 2 year warranty against manufacturing defects. Please note this does not cover aesthetic or finish faults. For full terms & conditions visit the JP Musical Instruments website at www.jpmusicalinstruments.com/warranty
---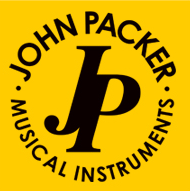 Contact MUSIC INFUSION for ANY John Packer product! JPMusicalInstruments.com

---
PLEASE NOTE: If you have a musical instrument instructor, please check with them on their personal recommendations for any needed Accessories & Instructional Materials. Then, Contact Us HERE so we can put together a quote on any requested items.

---
> We post our most popular proven products on our website to help remove the guesswork for you.
> We also have access to 300,000+ more items that we can special order for you via our suppliers.
> See the possibilities via our Brand & Category Sampling page (in the footer of this website).

> Then, Contact Us with any requests & we'll guide you to the BEST products for your need & budget.
THANK YOU FOR CHOOSING MUSIC INFUSION!
"A Place of Honesty, Integrity, and Kindness."