GUITAR AC-17: D'Addario EXP16 Coated Phosphor Bronze Acoustic Guitar Strings, Light, 12-53 (Item #EXP16)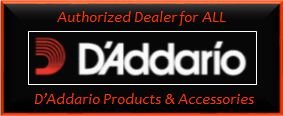 MUSIC INFUSION IS AN AUTHORIZED DEALER FOR ALL D'ADDARIO BRANDED PRODUCTS
---
D'Addario's most popular acoustic set, EXP16 delivers the ideal balance of volume, projection and comfortable playability. 
D'Addario's EXP coated strings now feature plain steel strings and hexagonal cores made of our revolutionary NY High Carbon Steel. Envisioned, perfected, and manufactured by D'Addario in New York, this newly engineered, break-resistant, high-carbon steel wire delivers unprecedented strength and pitch stability. Combined with the highest quality wrap wire materials, precision drawn and micro-coated on our advanced proprietary machinery, each EXP set maintains that familiar uncoated tone while adding up to 4 times more life.
String Gauges: Plain Steel .012, .016, Phosphor Bronze Wound .024, .032, .042, .053
---
HELPFUL TIP:
Enter in EGSCT-PAK to our search feature for the BEST tools & videos on how to change guitar strings!
---
THIS IS WHY WE CHOOSE TO FEATURE D'ADDARIO STRINGS:
---
MUSIC INFUSION IS AN AUTHORIZED DEALER FOR ALL D'ADDARIO BRANDED PRODUCTS

Contact us HERE with ANY special requests!

---
> We post our most popular proven products on our website to help remove the guesswork for you.
> We also have access to 300,000+ more items that we can special order for you via our suppliers.
> See the possibilities via our Brand & Category Sampling page (in the footer of this website).

> Then, Contact Us with any requests & we'll guide you to the BEST products for your need & budget.
THANK YOU FOR CHOOSING MUSIC INFUSION!
"A Place of Honesty, Integrity, and Kindness."