KEYBOARD A-08: Casio Privia PX-S1000 88-Key Digital Piano (Item #PX-S1000-U)
The CASIO Brand is Known for Quality Features at an Affordable Price Point.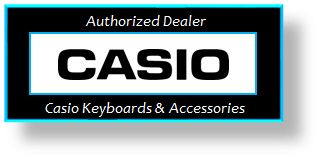 For over 15 years, Privia pianos have delivered a pure piano experience for any situation. Now, the PX-S1000 brings a fresh new design into the Privia family of instruments, making brilliant technology a part of your musical life.
---
View Demo Video Here:
---
HIGHLIGHTS:
Stunning piano Tones with damper and string resonance, plus 17 other Tones
Smart Scaled Hammer Action Keyboard with simulated ebony/ivory key textures
Beautifully polished top panel design with illuminated touch sensor controls
Bluetooth audio for playing along with your favorite songs
Designed to work with the free Chordana Play for Piano iOS/Android app
Slim design that weighs less than 25 pounds
Powerful stereo speaker system plus two headphone and two ¼" outputs
Optional battery power (AC adapter included)
Class-compliant USB port with no drivers or installation needed
FEATURES
The Perfect Touch
There's never been a keyboard this slim that feels this good. The superior touch of the PX-S1000 is thanks to the newly designed fully weighted Smart Scaled Hammer Action Keyboard, which delivers an authentic and uncompromising piano touch with an incredibly small footprint. Casio's proprietary key scaling system reproduces the individual characteristics of each of the 88 keys, while ebony and ivory key textures ensure confident playing in any climate.

Piano & Beyond
The PX-S1000 includes 18 Tones including a breathtaking acoustic grand piano. Advanced string resonance exposes the harmonic relationships between vibrating strings, while damper resonance adds depth and richness. You'll even hear the damper rise and fall when the pedal is pressed, along with the subtle mechanical sound of the keys being played and returning to their original position. Hammer response and key-off simulation deliver even greater detail, reacting naturally to your playing dynamics. Along with piano, you'll also find lifelike tine and reed electric pianos, organs, strings, vibraphone, harpsichord and more.
Speaking for Itself

A stereo speaker system delivers crystal-clear sound towards both the player and the audience, and is engineered to sound accurate when facing a wall, placed on a table, or in an open performance space. The speakers project towards the player from subtle ports just above the keys, and towards the audience from rear-facing drivers with a beautifully designed grill. Two headphone jacks allow quiet play at any time. The PX-S1000's newly developed Sound Mode gives your playing new perspective, with two immersive modes that surround you with your music. Going even deeper, you can select from four types of Hall Simulations to place your PX-S1000 in the virtual concert space of your dreams.
In Command

The PX-S1000 is also an ideal master controller for your home studio. It's more affordable than most dedicated 88-key MIDI controllers, delivers a better piano feel, and includes a collection of studio-quality sounds. Best of all, it fits easily into any desk designed to hold an 88-note instrument with room to spare. Class-compliant USB means you can connect to any Mac/PC/iOS/Android device with no drivers or installation needed.
Higher Education

Like all Privia instruments, the PX-S1000 features Duet mode, which splits the keys into two equal pitch ranges for performances or educational settings. A teacher and student, or two students, can be seated at the same instrument. The PX-S1000's Duet mode also has a Pan feature, which allows true two-student-per-instrument compatibility with all popular piano lab systems.
SPECIFICATIONS:

Keyboard: Number of Keys : 88, Key Action : Smart Scaled Hammer Action Keyboard, Touch Response : 5 sensitivity levels, off, Hammer Response : Yes, Key Off Response : Yes, 88 key digital scaled simulation : Yes
Tones: Polyphony (Maximum) : 192, Number of Built-in Tones : 18, Sound Source : AiR, Layer : Yes, Split : Yes
Acoustic Simulator: String Resonance : Yes (4 types, off), Damper Resonance : Yes (4 types, off), Key Action Noise : Yes (4 types, off), Damper Noise : Yes (4 types, off) 
Digital Effects: Sound Mode - Hall Simulator/Reverb : Hall simulator 4 - Surround : 2, Hall Simulator/Reverb : Equipped in Sound mode, Chorus : 4, Brilliance : Yes, DSP : Yes (Preset for some tones).
Songs: Music Library : 60, Demonstration-only Songs : 1, Song Expansion (User Songs) : 10

Additional Features: Connectivity to Chordana Play for Piano : Chordana Play for Piano, Bluetooth Audio : Yes, Lesson Function : Part ON/OFF, Recorder : 2 tracks, 1 song, Duet Mode : Yes, Octave Shift : ±2, Metronome : 0 to 9 beats, tempo range:20~255, Pedals : Included:Damper (SP-3) Optional 3-pedal unit:damper, soft, sostenuto(New SP-34), Key Transpose : 2 octaves (-12 semitones ~ 0 ~+12 semitones), Tuning Control : A4 = 415.5 Hz ~ 440.0 Hz ~ 465.9 Hz, Scale Function(Preset): Equal temperament + 16 variations, Operation Lock : Yes, Others : Touch sensor button:7(Tone select button:2), Auto Power Off

Connectivity & Storage: PHONES / OUTPUT : PHONES:2(Stereo mini), Pedals : 2(Damper, Pedal Unit), Connector for 3-Pedal Unit : Yes(New SP-34), LINE OUT : 2 L/MONO, R(Standard jack), AUDIO IN : Yes (Stereo mini), USB TO HOST : Yes 

Speakers & Amplifiers: Speaker System : 2 speakers, Amplifiers : 8W + 8W

Size: Width×Depth×Height (in) : 52 x 9 x 4 inch

Weight: 24.7 lb (excluding batteries)

Included Accessories: Pedal (SP-3), Music stand, AC Adaptor (ADA12150LW)

---
GET INSTRUCTIONAL MATERIALS > > > HERE.

---
THANK YOU FOR CHOOSING MUSIC INFUSION!
"A Place of Honesty, Integrity, and Kindness."
> We post our most popular proven products on our website to help remove the guesswork for you.
> We also have access to 300,000+ more items that we can special order for you via our suppliers.
> See the possibilities via our Brand & Category Sampling page (in the footer of this website).

> Then, CONTACT US with any requests & we'll guide you to the BEST products for your need & budget.