KEYBOARD A-12: Casio Privia PX-560 88-Key Pro Digital Stage Piano (Item #PX-560BE-U)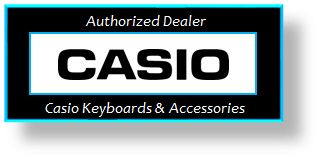 A Stage Piano Unlike Any Other . . .
From the first look at its striking blue case, you'll know it's different. It boasts some of Casio's most impressive sonic technology, in an easy-to-use instrument that sounds every bit as great as it looks. For the piano player who wants to go deeper, the PX-560 delivers a comprehensive set of features that will take your music further than ever.
CHECK THIS OUT: The built-in Polyphony is OFF THE CHARTS at a whopping 256, meaning you WILL be able to hear the notes and sound layers more clearly and distinctly than most higher-end keyboards (which generally max out at 128 Polyphony). 
---
View Demo Video Here:
---
FEATURES
Touch Your Music
Front and center is Casio's new Color Touch Interface. Its bright, 5.3" display is clear and easy to read, and the interface is inspiring yet simple. You'll see familiar graphics to help you select instruments and functions, making exploring the PX-560 fun and easy. You'll find yourself experimenting with new ideas, new sounds, and new ways of creating music.

The Keys to Success

The PX-560 features Casio's renowned Tri-Sensor Scaled Hammer Action II keyboard, which accurately reproduces the touch and response of a concert grand piano, despite the PX-560's light overall weight. As on a real concert grand, the keys are heavier in the lower register, and lighter up top. Your fingertips will immediately feel the ebony and ivory textured keys, which not only feel more realistic, but also give your hands a positive grip to keep your playing on point.

The Piano

In an instrument like the PX-560, the all-important piano sound must be as rewarding as the keys themselves. Casio's Multi-Dimensional AiR (Acoustic and Intelligent Resonator) Sound Source delivers some of the best piano sounds you've ever heard. Its Linear Morphing technology creates smooth transitions between the softer and louder sounds. Damper Resonance gives you the deep feeling of the piano's soundboard interacting with the strings. String Resonance models the harmonic relationships between vibrating strings. Hammer Response mimics the time between pressing the key and the hammer striking the strings. Key Off Simulation gives you control of a note's decay by how quickly the key is released. And with a massive 256 notes of polyphony, you won't have to worry about dropped notes, even while all of these incredible details are being recreated. These specifications are impressive, certainly, but what's most important is that they combine to form the perfect and complete experience of playing a 9-foot concert grand piano.

A Sound Design for Sound Designers
Under the hood, the PX-560 is not just a highly capable stage piano, but a full-fledged synthesizer. Unlike most other synths, going deep into sound design is as easy as touching the display. The PX-560 features Casio's Hex Layer technology, borrowed from the flagship Privia Pro PX-5S. This means you can create massive splits and layers, with four zones and a total of 14 layers at once. What's more, you can edit these Tones to sculpt them into something new and all your own. There are three realtime control knobs, as well as a modulation wheel, all of which can be controlling up to two assignable parameters at once. With great-sounding filters, responsive envelopes, and extensive modulation, the PX-560 can be a sonic playground as well as a performance instrument.

Bring the Band
Going beyond the traditional definition of a stage piano, the PX-560 includes 550 Tones, covering a huge variety of musical instruments and genres. There are dynamic and expressive guitars, basses, strings, drums, and much more, enhanced by powerful onboard DSP effects. The 220 onboard Rhythms allow multiple instruments to follow your playing, creating a backing band that plays in the style of your choice. In addition to exploring the built-in Rhythms, you can even assemble 30 customized User Rhythms by combining basslines, drum beats, and other elements. You can also create 100 of your own Music Presets, which encompass a Rhythm, Tones, effects, and built-in chord progressions.

Take the Stage
The PX-560 is designed to perform, and to make you sound your best. You'll be delighted at how lightweight it is (just over 26 pounds), and how easily you can integrate it into your live setup. Its ¼" outputs and inputs give you great connectivity for PA systems and multi-keyboard rigs, and its dual pedal inputs can be configured to accept an expression pedal, damper pedal, or foot switches.

Built-In Speaker System
The built-in speaker system has more than enough power to entertain at home. If you connect your favorite music player to its 1/8" stereo audio input, it even becomes a high-quality music dock.

A Built-In Studio

When the muse speaks, you owe it to yourself to capture your idea. You don't want to miss the chance to record your creation. The PX-560 gives you two ways to make sure your work is preserved. There is a 17-track MIDI recorder with editing features, and a USB audio recorder that creates an audio file directly onto a USB stick. You can create the sounds you want to play, record and edit MIDI songs with them, then add external instruments via the audio inputs, and capture the whole mix to share with the world.

Tools for School
The PX-560 includes features that are especially beneficial for private lessons and music labs. Duet mode splits the keyboard into two equal pitch ranges, letting two people (i.e. teacher and student) play side by side on a single instrument. Classroom mode adds the ability to send each side to an individual audio output, making it compatible with the most popular third party piano lab systems. Two front panel-mounted headphone jacks also make the PX-560 great for lessons or practice.

Plays Nice With Others
Like all Privias, the PX-560 has a class-compliant USB port which connects to a PC, Mac, or iOS device with no drivers needed. Easily control your favorite music software, without any extra setup.
---
SPECIFICATIONS
> Keyboard: 3 Sensors Tri-sensor Scaled Hammer Action Keyboard II 3 sensitivity levels, offSimulated ebony and ivory keys
> Sound Source: Multi-dimensional Morphing AiR Sound Source
> Linear Morphing & Hex layer: Yes
> Polyphony (maximum): 256
> Tones: 650 Built-in tones, 400 User Tones, Layer: Yes, Split: Yes, Duet Mode: Yes, Octave Shift: Yes, Editor: Yes
> Simulator for acoustic piano tones: Hammer Response: Yes 8 Levels, Damper Noise: Yes 16 Levels, Damper Resonance: Yes 16 Levels, String Resonance: Yes 16 Levels, Key off Simulator: Yes
> Digital Effects: Reverb: 17 Types (Editable), Chorus: 16 Types (Editable), Delay: 6 Types (Editable), Master EQ: 4 Bands Parametric EQ, DPS: 20 Types (Parameter Editable DSP)
> Auto Harmonize: Yes
> MIDI Recorder: 16 Multi Track + 1 System Track 100 Songs Approximately 50,000 Notes Real- Time Recording, Punch-in/out Song and Track Edit: Delete, Copy, Rename
> Audio Recorder: 100 Songs, Recording/Playback Format: .wav (16bit, 44.1kHz, Stereo), Length of recording per song: approx. 74mins
> Preset Temperaments: 17 Types
> Rhythm Editor: Yes
> Rhythms: 200 Built-in Rhythms, 30 User Rhythms, One Touch Preset
> Songs: 100 User Songs (Song Expansion), 32MB Capacity for user songs, 6 Demo songs
> Tempo Setting: 20 ~ 255BPM Tapping Function
> Metronome: 0, 2, 3, 4, 5, 6 beats; tempo range: 20 to 255
> Pedals: Small square-shaped sustain pedal. 
> Display: 5.3" Color Touch Panel
> Pitch Bend Wheel: Yes
> Modulation Wheel: Yes
> Controller: 3 Knobs
> Power Source: DC 12V
> Power Supply: AC Adapter: AD-A12150LW
> Power Consumption: 10 W
> Auto Power Off: Yes
> USB: USB port (to Host): Yes, USB Flash Drive Port: Yes, Pedal: 2 (Damper Assignable) Connector for 3-Pedal Unit, Expression Pedal Available Midi in/out: Yes, Phones: 2 (3.5mm Stero Mini, Front), Line In: Yes (L/MONO, R: 6.3mm Mono Standard), Line Out: Yes (L/MONO, R: 6.3mm Mono Standard), Audio In: Yes (3.5mm Stereo Mini).
> Speakers: 4.72" x 2, 1.97" x 2
> Amplifiers: 8 W + 8 W
> Weight: 26.5 lbs
> Size: 52.0" x 11.5" x 5.8"
> Included Accessories: Score Stand, AD-A12150 AC Adapter, SP-3 Pedal. (Professional stage sustain pedal can be purchased separately.)
---
GET INSTRUCTIONAL MATERIALS HERE.

---


Since 2005, Music Infusion customers know they can trust the QUALITY & VALUE of the hundreds of Music & Pro Audio items available for purchase on our website.

We ALSO offer access to 700+ BRANDS representing an ADDITIONAL 300,000+ Music & Pro Audio Products!

See a sampling of the "Music & Pro Audio Brands" and submit any special requests HERE - and we'll be honored to do all the HUNTING & DEAL-MAKING for you!

Many prices BELOW what you'll see on other "big box" store websites!
THANK YOU FOR CHOOSING MUSIC INFUSION!
"A Place of Honesty, Integrity, and Kindness."