KEYBOARD AC-06: On-Stage KSP100 Piano Style Sustain Pedal (Item #13427)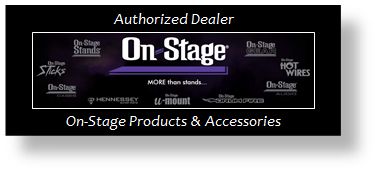 ---
We HIGHLY recommend a piano-style sustain pedal to properly learn and play the keyboard.

This full size piano-style pedal is perfect when you need a sturdy and responsive control over sustain. The heavy-duty spring allows for better control and durability.

Features:

> Full size piano-style pedal.
> Polarity switch for universal compatibility.
> Chrome foot pedal comes with a removable scratch resistant cover, which doubles as a non-slip foot grip.
> Built-in 6' cord with ¼" input jack.

---
MUSIC INFUSION has access to ALL On-Stage Brand Products! Contact us HERE with ANY special requests!
---
> We post our most popular proven products on our website to help remove the guesswork for you.
> We also have access to 300,000+ more items that we can special order for you via our suppliers.
> See the possibilities via our Brand & Category Sampling page (in the footer of this website).

> Then, Contact Us with any requests & we'll guide you to the BEST products for your need & budget.
THANK YOU FOR CHOOSING MUSIC INFUSION!
"A Place of Honesty, Integrity, and Kindness."