AUDIO A-04: BOSE® L1® Pro16 Portable Line Array System (Item #254804)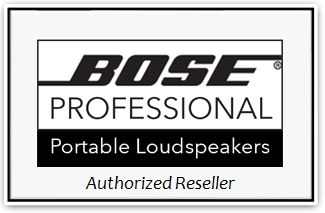 ---
BOSE® IS DEDICATED TO PRO AUDIO EXCELLENCE
Recognized worldwide, BOSE® Professional has been a top product choice for singers, musicians, presenters, teachers, houses of worship and more. For BOSE®, it goes beyond creating groundbreaking innovations that have helped shape an entire industry. It's about providing the right products that help you deliver an amazing, unforgettable experience for your audiences.

---
A balance of power and portability, the BOSE® L1 Pro16 portable line array is a streamlined system with high output and extended low frequency range. With a 16-driver articulated J-shape line array, the L1 Pro16 delivers 180-degree horizontal sound coverage, great for small-to-medium sized clubs, classrooms, meeting rooms, and other venues.
An integrated subwoofer with a RaceTrack driver delivers powerful bass without the bulk. The built-in multi-channel mixer offers EQ, reverb, and phantom power, plus Bluetooth® streaming and access to the full library of ToneMatch presets.
The intuitive BOSE® Music app, formerly known as the L1 Mix App, places wireless control in your hands from your smartphone. For DJs, singer-songwriters, and small ensembles, the L1 Pro16 gives you expanded bandwidth and supreme clarity — the power to sound your best and simply perform.

---
FEATURES
Balance, power, and portability with the L1 Pro system optimized for both on-the-go simplicity and expanded bandwidth, ideal for small-to-medium sized clubs, bars, and other venues.

J-shaped line array featuring 16 articulated 2" neodymium drivers; 180-degree horizontal coverage, tight vertical control on top, wide dispersion on the bottom to cover audiences whether set up on the floor or an elevated stage, even off to the extreme sides in medium to large venues.

Deliver premium full-range sound with consistent tonal balance for singer-songwriters, mobile DJs, small ensembles, and more.

Maintain supreme vocal and instrument clarity with a J-shape extended-frequency line array featuring 16 articulated 2" neodymium drivers and wide 180-degree horizontal coverage.

Bring more bass with less bulk with an integrated 10" × 18" high-excursion neodymium RaceTrack woofer; performance that rivals traditional round drivers with a smaller footprint.

Go from vehicle to venue easily with a modular three-piece system that's easier to pack, carry, and set up.

Select between optimized system EQ presets for live music, recorded music, and more.

Connect various audio sources easily via built-in mixer with two combo XLR-1/4" phantom-powered inputs, 1/4" and 1/8" (3.5 mm) aux input, plus Bluetooth® streaming — and access system EQ and ToneMatch presets, volume, tone, and reverb via illuminated controls.

Add in even more instruments and other audio sources via dedicated ToneMatch port; one cable provides both power and digital audio between the system and a Bose T4S or T8S mixer (optional).

Take wireless control with the BOSE® Music App on your smartphone to adjust settings instantly from your phone, roam the room and fine-tune, and access the ToneMatch library of custom EQ presets.

Stream high-quality Bluetooth® audio from compatible devices.

---
FOR COMPLETE TECHNICAL INFORMATION, CLICK HERE
---
MUSIC INFUSION OFFERS FREE SHIPPING ON THIS ITEM!
---


Since 2005, Music Infusion customers know they can trust the QUALITY & VALUE of the hundreds of Music & Pro Audio items available for purchase on our website.

We ALSO offer access to 700+ BRANDS representing an ADDITIONAL 300,000+ Music & Pro Audio Products!

See a sampling of the "Music & Pro Audio Brands" and submit any special requests HERE - and we'll be honored to do all the HUNTING & DEAL-MAKING for you!
THANK YOU FOR CHOOSING MUSIC INFUSION!
"A Place of Honesty, Integrity, and Kindness."