AUDIO A-07: BOSE® S1® Pro+ Wireless PA System (Item #282102)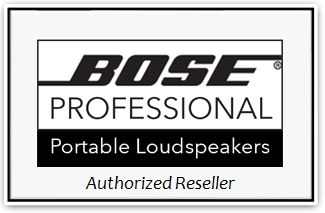 ---
BOSE® IS DEDICATED TO PRO AUDIO EXCELLENCE
Recognized worldwide, BOSE® Professional has been a top product choice for singers, musicians, presenters, teachers, houses of worship and more. For BOSE®, it goes beyond creating groundbreaking innovations that have helped shape an entire industry. It's about providing the right products that help you deliver an amazing, unforgettable experience for your audiences.

---
The BOSE® S1 Pro+ Wireless PA System is the ultimate, all-in-one PA for live performance, or as a floor monitor, practice amplifier, and primary music system. Multiple positions, supported by Auto EQ, ensure that you always sound your best. And with a 3-channel mixer, reverb, Bluetooth streaming along with integrated wireless receivers, and with a built-in carry handle - the S1 Pro+ is ready to be your go-anywhere PA.
---
THE POWER OF PRO SOUND
With more powerful performance, S1 Pro+ gets even louder than its predecessor. So you can be a vibe any time you bring this portable PA system to a gig. An integrated 3-channel mixer lets you bring the loud.

---
FOUR UNIQUE PLACEMENT MODES
Elevated Surface: Position the S1 Pro+ on a surface. This projects sound clearly and evenly throughout the audience, and ensures that audience members enjoy the full frequency range of the system.

Tilt-Back: For performances where your audience is close to you, tilt the S1 Pro+ onto its back edge. For best results, you should stand or sit to one side of the loudspeaker to avoid blocking sound from the audience.

Monitor Mode: To use the S1 Pro+ as a personal floor monitor, place it on the ground horizontally, in front of and pointing toward the performer. Tilt the loudspeaker onto its side edge. Rotate the Bose logo counterclockwise to match your chosen mode.

Speaker Stand: Place one or two S1 Pro+ Systems on speaker stands (sold separately) for general-purpose sound reinforcement.

---
AN AUDIO ENGINEER IN YOUR POCKET
Control this professional Bluetooth speaker with the Bose Music app, plus get the entire ToneMatch presets library and keep track of Bluetooth connections. Between shows, stream music with your phone to add professional sound to your party. Bluetooth range: Up to 30 ft (Bluetooth version: 5.0).
---
2 balanced/unbalanced 1/4" XLR combo jacks
TRS 1/4" AUX input
3.5 mm AUX input
XLR line output
USB-C for system updates

---
Battery Life: Up to 11 hours
Battery Charge Method: USB-A
Battery Type: Rechargeable lithium-ion
As with any battery-operated device, battery performance can vary based on a number of different factors. These include the type of content being played, the volume at which it's played, and the surrounding temperature. The Bose S1 Pro+ Wireless PA System was rigorously tested and verified to provide up to 11 hours of battery life while playing music at room temperature from Spotify's Global Top 50 at a comfortable volume that you can talk over while listening indoors. A singer/songwriter performing indoors for up to 100 people can expect to get 5 hours or more of battery life at performance-volume levels. 
---
S1 Pro+ Wireless PA System with battery (Dimensions / Weight 13.1" H x 9.4" W x 11" D / 14.4 lbs)
Owner's Guide
Quick Start Guide


AC Power Cord (The S1 Pro+ has a universal power supply that allows it to operate in regions ranging from 100V – 240V. The proper power cord for the specific region in which the system was purchased is included in the product carton.)
---
OPTIONAL PRODUCTS
RF transmitters for a mic and instrument are sold separately.
---
Since 2005, Music Infusion customers know they can trust the QUALITY & VALUE of the hundreds of Music & Pro Audio items available for purchase on our website.

We ALSO offer access to 700+ BRANDS representing an ADDITIONAL 300,000+ Music & Pro Audio Products!

See a sampling of the "Music & Pro Audio Brands" and submit any special requests HERE - and we'll be honored to do all the HUNTING & DEAL-MAKING for you!
THANK YOU FOR CHOOSING MUSIC INFUSION!
"A Place of Honesty, Integrity, and Kindness."