UKULELE and U-BASS® STAND: Kala Fold-Out Stand for Ukulele and UBASS® (Item #US-PM)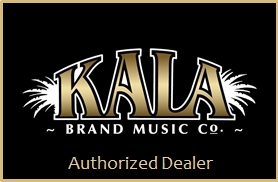 We chose the KALA Brand over ALL other Ukulele Products because of their great company values and their superior quality. In our opinion, KALA is the BEST!
---
Fabricated from sustainable solid kiln dried African Sapele Hardwood, the Kala Fold Out Stand can support instruments with bodies up to 3.75" thick. This highly durable stand supports all sizes of ukulele all the way up to U•Bass®.
The Kala Fold Out Stand is perfect for any performer, packing neatly away for travel.
FEATURES:

> African Sapele construction
> Inert silicon pads at contact points
> Closed cell neoprene padding
> Hard neoprene in thin line areas
> Stainless hinge with non-slip pins
> Two-position brace
> Comes with black velveteen bag
> Measures 6 3/8" x 3" x 1 3/8" when closed
> Measures 9-1/4" x 8" x 6" when fully open

---
> We post our most popular proven products on our website to help remove the guesswork for you.
> We also have access to 300,000+ more items that we can special order for you via our suppliers.
> See the possibilities via our Brand & Category Sampling page (in the footer of this website).

> Then, Contact Us with any requests & we'll guide you to the BEST products for your need & budget.
THANK YOU FOR CHOOSING MUSIC INFUSION!
"A Place of Honesty, Integrity, and Kindness."